Consumer Banking
Chase and Pinterest Unveil "Chase Dream Boards" Featuring Drew and Jonathan Scott
Interactive Experience Encourages Consumers to Turn Remodeling Inspiration into Action
Sep 20, 2018 Chase Home Lending, in partnership with Pinterest and featuring TV personalities, Drew and Jonathan Scott, today announced "Chase Dream Boards." This interactive web experience is designed to deliver inspiration and guidance to consumers who are considering a home renovation. Upon completing a quick online questionnaire about their home improvement project, consumers are presented with a personalized Pinterest Board complete with inspiration, tips and advice from Chase and the Scott Brothers.
"Chase Dream Boards is the first-of-its-kind experience that marries design inspiration with practical financial guidance. Now customers with the desire to begin a home renovation project can get personalized, expert help delivered via Pinterest in a highly visual and digestible format," said Amy Bonitatibus, Chief Marketing and Communications Officer for Chase Home Lending. "Chase Dream Boards builds on our partnerships with both Pinterest and the Scott Brothers, offering customers a real life, fun and useful way to make their remodel a reality."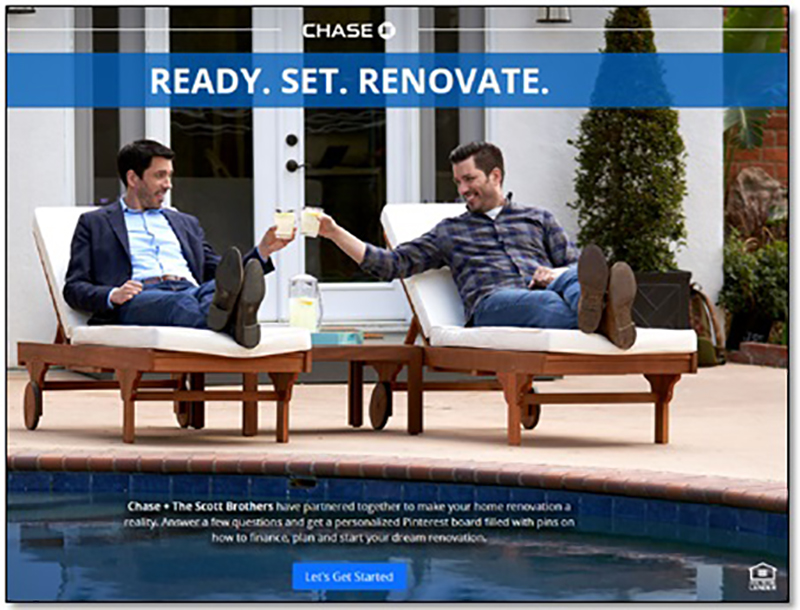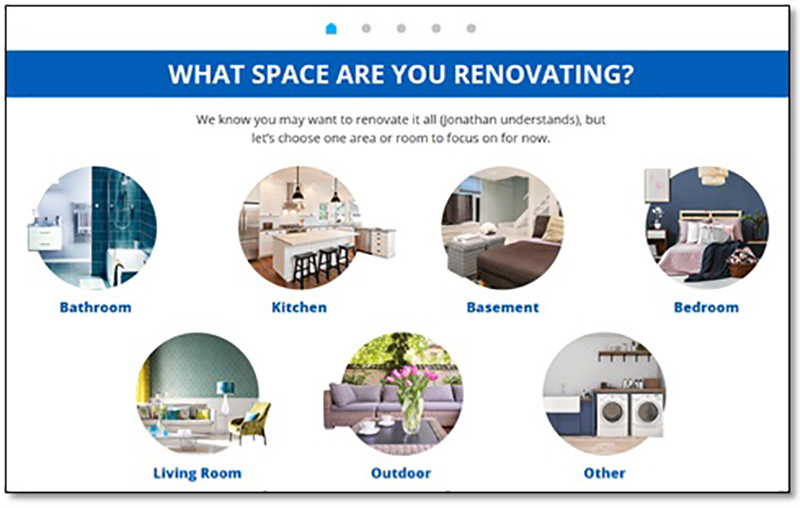 Bridging the gap from creative ideation to action, Chase Dream Boards invites consumers to share the details on their renovation including space (kitchen, bedroom, bathroom, etc.), type of project (structural, foundational, decorative, etc.), personal style, budget and how they plan to finance the renovation. Based on this information, a Pinterest board is generated with Pins on how to get started with a renovation, how to set a budget, DIY versus for-hire projects and much more. Expert insights from the Scott Brothers and Chase Home Lending are woven throughout the board to ignite consumers' creative ideas while helping them understand how to tap into their home's equity or refinance their mortgage to pay for the project.
To experience Chase Dream Boards please visit homeequity.chase.com/renovationboard.
Another tool that will help make home improvement dreams a reality is Chase's recently launched renovation estimator. Before jumping into a renovation, homeowners can get an idea of how much it will cost to complete their project. In addition to getting an accurate cost estimate, the tool will help determine if a project is worth the spend by reporting the potential return on investment. Click here to try out the home renovation estimator.
Pinterest is the visual discovery engine. It is where you find and do what you love. With Pinterest, you can discover useful and relevant things that inspire you to do stuff. It began as a tool to help people collect the things they were passionate about online. But it soon became apparent that the real joy was getting inspired by what other people shared and applying that inspiration to their own lives. Pinners began using the platform to answer everyday questions like "What should I cook?" and "What should I wear?" They also used it for epic goals like getting a tattoo or building motorcycles. Whatever the interest, people have told us that life gets a little bit better when they can use these ideas to make more of their moments. Today, more than 250 million people come to the platform every month to explore and experience more than 175 billion ideas. We're proud to help people discover and do what they love. And the really exciting part is that we are just getting started. Our headquarters are in San Francisco, CA. We have over 1,500 employees in offices across the globe, including in Atlanta, Berlin, Chicago, Detroit, Dublin, London, Los Angeles, New York, Portland, Paris, Sao Paulo, Seattle and Tokyo.